THE 2021 MEGA HOMESCHOOL PLANNER

Get your homeschool life organized with our colorful and useful 63-page MEGA Homeschool Planner! A thoughtful variety of curriculum planners, lesson planning pages, calendars, trackers, logs, goals, and more will help you get on track and stay on track. 
Check out what's included below:
HOMESCHOOL VISION – Breathe new life into the year ahead by crafting your own unique vision for your homeschool that works for YOUR family and YOUR values. Having a clear vision keeps you from being swayed by trends, useless curricula, or what's working for another family. Two options to choose from.
SHORT-TERM  & LONG-TERM GOALS – A goals page to plan out the homeschool goals you want to work on and how you will get there. Space for goals, strategies, tasks, rewards, target/completion dates and milestones.
YEAR-AT-A-GLANCE – This single page is jam packed with information to give a yearly overview for future planning! Federal holidays, school start/end dates, semester and quarter dates, vacation and holiday dates are all included to help you plan your best year.
BIRTHDAYS, HOLIDAYS, SPECIAL EVENTS – Use this page to track birthdays, holidays and other special events.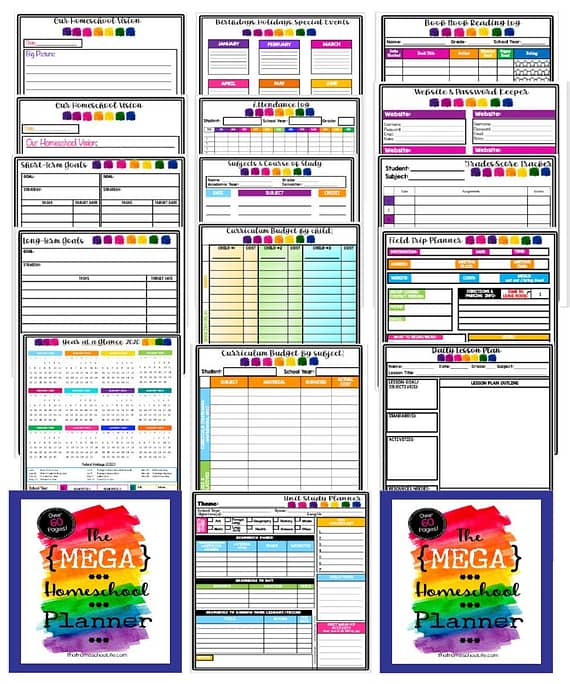 UNIT STUDY PLANNER – Incorporate many subjects while learning about one broad or specific theme/topic. Includes resources to buy, to borrow, owned; multi-subject checklist; key vocabulary, field trips, wrap-up activities, and more. FANTASTIC planner when you're teaching different grades at the same time!
FIELD TRIP PLANNER – Date, time, location, contact person, meals, costs, directions, and more!
SUBJECTS AND COURSE OF STUDY – For students taking high school or community college classes. Make a list of the subjects you would like to cover in your curriculum. Space for recording state/umbrella school requirements for class credits.
CURRICULUM BUDGET– This page will help you financially plan your curriculum for the year (and avoid sticker/cost shock). A great printable to take with you to a homeschool conference! Two options to choose from.
READING LOG – Record books, minutes, and pages your child reads this school year. Includes a 5-star rating system.
ATTENDANCE LOG – Monthly tracker for taking attendance. Important for states that require documentation.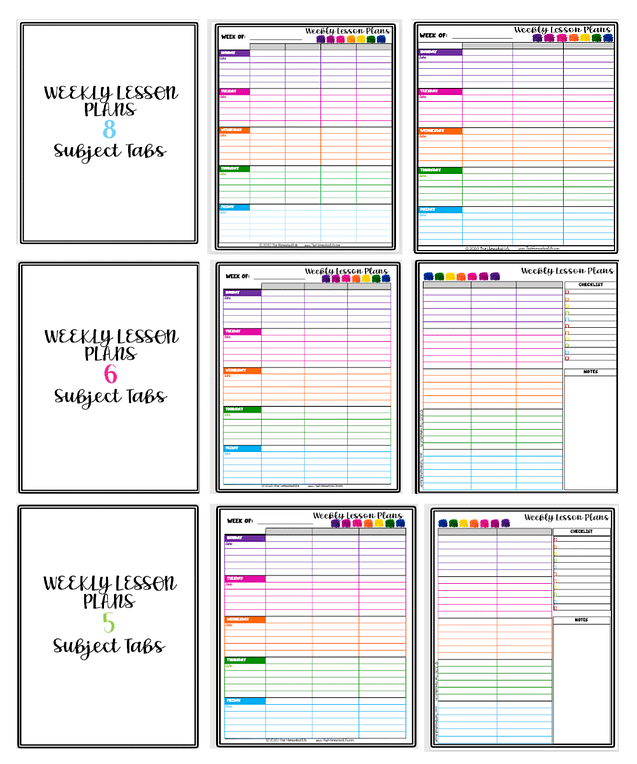 GRADES AND SCORE TRACKER – This grid page is excellent for tracking grades, test scores, and quizzes.
WEBSITE AND PASSWORD KEEPER – Stop scrambling around minutes before a lesson or online class begins looking for the password! Keep all your student-account and parent-account passwords in one place for peace of mind.
DAILY LESSON PLAN – Plan your day with success! Includes a lesson plan outline, objectives/goals, resources needed, activities, and more. Can be used for each subject taught.

DAILY LESSON SCHEDULE – Schedule your day with nine spaces for time-slots or subjects, a completion checkbox, and space to write down materials/notes.
WEEKLY LESSON PLAN – Organize your lessons and assignments for each day of the week. Weekly lesson planner pages are thoughtfully created to give you ultimate flexibility! This planner set comes with 8, 6,  and 5-week subject tab options so you can choose a layout that works for your schedule. There is also a sidebar area for notes and a checklist – a great place to jot down reminders, project notes, and spelling words!
MONTHLY CALENDAR – Undated 12-month calendar pages. Use year after year. Each month is included on the top of each two-page spread. Just fill in the dates! Includes a sidebar to jot down lists or notes for school and home.
NOTES – Your planner comes with two different notes pages, one lined and one unlined, to keep you organized  throughout the year.  Make multiple copies.
****************************************************************************
PLANNER SIZE:
Our LARGE Homeschool Planner pages are sized 8.5″ x 11″ which fits any 3-ring binder. 
Adobe Acrobat Reader is required to print the files correctly.
Please, download it here: https://get.adobe.com/reader/